Two months ago I was still reminiscing about the fact that I had completed the Surf Coast Century 100km ultra-endurance trail run.
It has been a good few years since I let the seed of doing this event plant in my mind.
I never threw the dream away, just put it to the back of important things to do, until the time was right.
It all started with watching the Great Ocean Road Marathon go past Phil Anderson's house in Grey River when I was house sitting, not long after my altercation with the wombat on Cloudride 1000km bikepacking race. I realised that I needed to sign up for the Surf Coast trail marathon in July and so with about 4 weeks leading up, I raced that.
Then, shortly after I had a chat with Stephane from GPC at a road race at Paraparap, about doing triathlons, I was keen to do an Ironman, and so the transition from 24hr mountain biker to runner/multi-sport athlete began.
A few years ago I went and did an Ironman triathlon as it was something I was always curious about.
This year I competed in 2 Adventure Races as this was also something I wanted to experience.
Which all started with the Afterglow 21km Trail run in November last year.
Since doing the Ironman tr in December 2017, I felt finally free of the shackles that seemed to define me as an athlete, being the 24hr mountain biking champion. I really had lost the love for the mountain bike, except for the annual Otway Odyssey and long adventure rides in the backcountry.
As a child, I loved the water, but was not a swimmer, confident enough to go out behind the breaks in the ocean, to be in the deep end of the pool, but certainly not do laps.
With my running, funnily enough, I was the under 6 athletics champion at St Mary's Primary school back in 1970 something and I still have the trophy. I moved schools partway through grade 1 and become very very shy, trying to fit in with new kids and find my space in amongst the friendship groups. I remember withdrawing from sport, avoiding team things, hoping never to get picked and hating the annual school swimming sports. But I always loved athletics and even recall having the best fun in our school cross country. Certainly not a runner but I resonated with it.
The bike, well you know how that goes, I loved my bike. Thank you to my teachers Mr Wells and Mr Carlon for running the gd 5&6 Bike Ed program that culminated in a riding camp.
Oh yes, I was saying, the world of triathlon lit a small flame, and I liked the concept of 'multi-sport' but didn't really find my groove in this sport. Triathlon training was fun, but the racing I did not really enjoy as much. It felt contrived and very measured, and a whole lot of hoo-ha and money for the pleasure to be there. Not to mention the gear junkies, but yes, they are there in every sport, but oh my dear, triathlon is a whole level above I reckon!
After finishing the Busselton IM in Dec 2017 I was pretty sure that was it for me, but as I said, I was keen to keep up swimming and running and of course, my cycling would always be there.
Norm and I swam open water all summer up until May the next year and I dabbled in a run every now and again, still dreaming of doing the Surf Coast Century one day.
2018 I was really going gangbusters with my road cycling and making great gains in our local club racing B grade and starting in the backmarkers around 2nd or 3rd scratch in handicaps. Yet I felt there was something missing.
Low and behold Trevor Mullens of Tiger Adventure contacted me in October 2018 asking me if I was keen to join in an adventure race being held at Falls Creek in January 2019. I was free, it was local, I loved that area and I had nothing to lose, so I said yes. Now I had something to train for.
I got stuck into paddling, running and of course riding, hoping I wouldn't let my team down but knew I would be the newbie with loads to learn. Now if I thought Triathlon was expensive, Adventure Racing is more so.
I needed a bunch of stuff to get to the start line and also invested in my own boat to paddle, which I love and still use.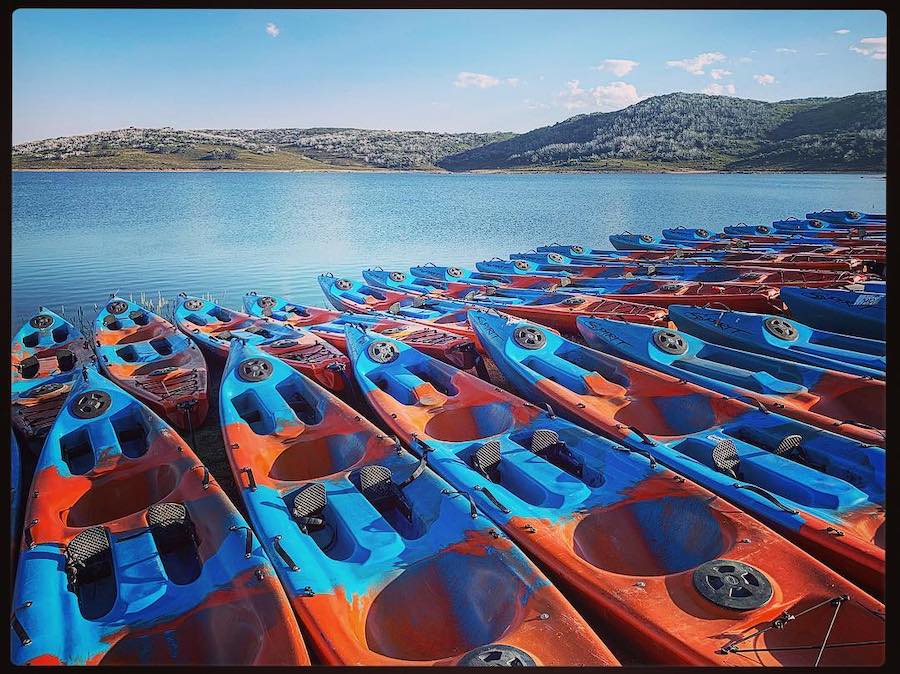 Here was my last 12 months timeline (briefly) of what I have been up to:
November 2018
Moved into our new house, re-entered the homeowner/mortgage world after many years of renting.
Afterglow 21km Trail run
Vic XCO champs - You Yangs
Swim and run training
December 2018
Women's Road handicap - Paraparap
2-day bike-packing ride with Rishi - approx. 450km
Long training rides for Bicycle networks for Peaks Challenge
Long training rides for Otway Odyssey on MTB
swim run and paddle training
January 2019
Two Bays Trail run - 28km
MTB training
Road racing
24hr Adventure Race
February 2019
Falls Ck Dirt de femme Mtb ambassador and riding
Camperdown to Warrnambool handicap road race
Otway Odyssey 100km Mtb race
Great Ocean Gravel Grind 100km ride
Road racing, MTB training, Trail running and swimming and paddling training.
March 2019
Peaks Challenge Falls Ck 245km ride as 12hr lead rider
Gippy Gold 200km Gravel ride
…then, of course, I got sick and took two weeks off racing and training.
I then entered Surf Coast Century as you do when you have downtime. and shortly after the Great Southern Endurance Run (182km Ultra trail run)
April 2019
Run, Ride, Swim, Paddle training
Australian Veteran Cycling Council National champs in Maryborough (TT, RR and Crit)
And then my grandson Finley was born and I become a grandmother.
May 2019
More big handicap road races
VRS ITT in Geelong
More trail run training and paddling
June 2019
And now it was time for the GEOQUEST 48hr Adventure race in Yamba.
Surf Coast Trail Marathon
July 2019
Lots of trail running events.
6hr Rogaine followed the next day by a 50km trail ultra at the You yangs.
and Road cycling races and training.
August 2019
More trail running events
…then I got a hamstring injury! As you do.
7 weeks of pain, backing off and pulling out of events.
Back to runs that were 5km long but I knew I could pull off the Surf Coast Century, just slower.
$$$$ spent on rehab, but the lessons learnt as every runner will attest to.
September 2019
VCV State Time Trial champs at Balliang
The SURF COAST CENTURY - 100km Trail run…whoo hoo… I finished in 12hrs 36 mins.
the very next week I raced a club road race and it hurt, but I survived!
October 2019
More run training
More bike rehab so as not to overdo the legs
Stairs, hills, running off the bike every ride.
My daughter's wedding where Norm and I were really ill all day long.
Followed by a very tough road race the next weekend, where I went for a 20km trail run afterwards ...as you do.
November 2019
A run and ride trip away to Bright
Some easy training
And finally, the Great Southern Endurance Run, albeit a variation on the original version, resulting in me with a DNF.
So yeah, my last 12 months have felt intense.
Learning the ropes of Adventure racing, a new skill in paddling too.
Upping my game in trail running, going from a 28km trail run to attempting the 100miler GSER.
Keeping up my road racing, a dabble in mountain biking and also time trialing.
Building on my swim fitness as soon as the outdoor pool was open.
Being injured, being sick a few times throughout the year.
Becoming a grandmother.
Becoming a mother in law.
Oh, and becoming a homeowner.
I guess it's time to reveal how the 2 big races panned out for me.
Surf Coast Century. 100km trail running ultra. & The Great Southern Endurance Run, 100 miler.

I wanted to do this race from the moment Rapid Ascent put it in their event calendar.
I even entered one year, and then asked for a refund realising I just couldn't manage 24hr mountain bike racing and building for a 100km trail run with the two events in Sept and Oct.
But this year I felt calm and ready, I didn't care how much it would hurt, feeling confident that the terrain would be friendly enough for someone like me to finish. I had a dream time, sub-12hr eg: 11hrs 59 mins.
So I dabbled in short runs, long runs, hills, events, half marathons, marathons, ultras, adventure races, and a rogaine. But I also kept up my road racing, this was my pact to myself, that by keeping up my cycling, I would actually stay injury-free and have a good cross-training option up my sleeve when my legs were too sore to run.
Things were going along really really well until I had a grade 1 hamstring tear from a bad foot placement on an off-camber trail at Silvan 21km trail run. This was in August, SC100 was 7 weeks later. 6 weeks is normally a good recovery time so I focused on this. shortened up my runs and kept my training more 'rehab' style and spend more time riding bikes and paddling. Dry needling, physio and massage weekly.
I reassessed my goals. Sub 13hrs. Run the first 21km no less than 6 min km pace and once I hit 50km I would start to hike the big hills to save my legs for the back end. With a hammy injury, it is running downhill that is debilitating and causes you to slow down, not the up.
The start was so easy, I felt in my element, and totally ego-free as I stuck to my 6 min km pace and let people pass me.
The beach was amazing, I loved it, we had great conditions and hard packed sand. Running through the water was so good, and rock hopping made the kms pass by as the concentration was intense. This was to be my favourite part of the whole race. In around 2hrs I was at Torquay, changing my shoes and socks, and refilling water etc…to get going for the next leg to Anglesea.
From Torquay to Bells, Pt Addis and Ironbark basin, I knew this well and could really just focus on good form, have a chat with a few people and ensure I was always thinking about how awesome this was if any pain came to visit.
Eat drink, focus on my breathing, my cadence, my posture, my foot placement and pacing.
When we got to the single track near Anglesea, this was a heap of fun, so much twisting and winding around with fun trail to engage your mind in and then we got smashed with some spring rain, which to me was perfect as I was getting very warm and a bit queasy in the guts. Perhaps running the single track as though I was on a bike did this?
Arriving at Anglesea halfway point, I was greeted by Saskia James and little Finley. This made me happy and I got going again but pretty quickly realised the midday heat and sun was having a negative effect on my energy. I also met up with loads of team runners and 50km entrants, who kind of annoyed me as they wanted to pass me with 'Freddy fresh legs'.
It was a blessing to walk Messmate tk, a steep climb to the highpoint, it calmed my guts down and allowed the ocean air to reach me again.
More steep ups and downs, but I was good now, run the downs, hike the ups. But I was running out of water already! They had water at the bottom of the Kurrawong falls, which I refilled, this would be a tough section. I developed a method. Run 50 steps, walk 100. Then I realised I could swap around 100 runs, 50 walks. Then I went 200 steps running, to 50 steps walking. The afternoon sun was so hot by now, and more water was needed at the mini aid station out of this. phew!
More steep walking ups, run the downs. And now I was at Moggs Ck.
Moggs was amazing, but I was not hungry, guts were still queasy, so I drank and ate what I could.
I got a bit of help from Scraggy who was there in a team and then got going as there was no use staying if I didn't want to enjoy a cup of noodles.
It was now I allowed myself to play my music list and my radiator started to cool down as the sun was dipping lower and the cool air was felt in the thick coverage of bush. The views were amazing over the coast and despite my hamstring injury finally revealing it was tired, I was in a good space.
My goal the whole race was to manage only 1km at a time. Just focus right now on getting this next km done and then the next.
When I got to Airey's aid station, I still had not really eaten much in the past 30km so asked for a cup of coke, and then red bull, then coke and another red bull. I saw Rachel Burrage and Danielle Goonan here, both happy and stoked to see them. As I left that aid station I had the Police - "Roxanne" playing …and, of course, I was singing along with much passion. It was starting to creep into sunset and would soon be dark and I was really looking forward to running into the night.
The section of walking track from the Aireys lighthouse to Urquharts Bluff takes forever, but it's not boring either. Lots to focus on as it got dark with roots and steps and overhanging branches.
Finally, I get to the beach section, it's about 4km of pure sand, but thankfully the tide was out and the surface was solid.
The salt haze off the ocean created a bit of glare against the brightness of a light and I could really only focus a few meters ahead, this was a good thing actually.
The goal was to find a tempo that was fast and bright, around 6min pace and get the 4km beach sector done asap.
The stairs out to Point Roadknight took forever to reveal themselves, and it was now that I allowed myself to count down the final kms, instead of ticking off each km at a time. I think there was around 8km to go. About 2km of flat boring gravel road, then onto the trail again, back to the beach and finishing off on about 1.5km of the trail to the finish.
It was all just tick tick ticking the boxes now, and not walking any uphills, it was get this run done.
Norm had been MC'ing all day for the event and was waiting for me to finish and then we would go home.
I was dreaming of a hot epsom salt bath and being able to say I had done it.
The final 500mts I was really trying to hammer it home, but probably still only doing 6 min pace, in my mind, I am sprinting but this is not really the actual!
Over the finish line, I managed a big jump of excitement and that was it, I was done.
100km in 12:36min and 10 seconds. Finished in the top 16% of women overall and 8th in category. Reached my goal of sub 13 and not far off my original pre-injury goal.
Hahaha, I am laughing in my mind now as I type this, the euphoria of finishing is lovely, and within 10 mins my legs were stiffening up, within 20 minutes they were starting to become very uncooperative. The hot bath at home was now all I could think about. I took 2 panadol to take that achy edge off to survive the car trip home.
At the time I was like, NO WAY, I never want to do this again, but within an hour, I realised that is just a survival instinct kicking in. Sure it hurt…but I was back road racing the next weekend and this was nothing like what was to come with the Great Southern Endurance Run in 8 weeks time!
Preparing for the GSER, for the next 8 weeks I did what I could when I could and worked on some imbalances, started doing a bit more swimming and kept up the rehab. I backed off on the long runs but tried to include more climbing and descending knowing this would be the hardest thing in the GSER.
I climb mountains…On my bike! Not on foot, and I have always known first hand that running, hiking, walking downhill would be the killer and it was unknown territory on how my hammy and even my achilles would go with so much steep climbing too.
The big drawcard for me in entering this 100miler event was to be on a journey, moving forward from Bright to the destination of Mt Buller via some pretty epic alpine backcountry. I am certainly a newbie when it comes to this kind of terrain so I was prepared to be open to learning on the job as well, for going to the mountains every weekend was out of the question.
I had read heaps of blogs from previous years runners and knew that we had some very technical terrain to cover especially on the Viking area. I used my go-to mentality, "if they survived then so can I".
Race day was looming, and course marking peeps were out doing their job.
Snow was falling with super wintery conditions up on the ridgelines, forcing the hand of the organisers to turn our beautiful journey into an out and back course.
With more climbing and more descending than what was first on offer. Turn around at Mt Speculation and come back over all the techie stuff during the early dark hours of the morning. Ouch. Ok, I accepted it without a second thought, I mean I didn't have an option anyway. However I did start to wonder how one would come down Bon Accord Spur in the final hours of the race with dead legs and a tired brain, uphill finish to Mt Buller seemed far more appealing.
Norm and I made our way to Harrietville on the Thursday, which would be the new start line instead of Bright.
I can tell you now, it was kind of surreal taking the steps to prepare my drop bags and getting my mandatory gear ready for checking. I was following processes without emotion, no thoughts on how and when and why just doing.
I figured, just show up on the start line and go when they say go and then just go into survival. Whilst trying to enjoy my surroundings.
Friday morning alarm at 4 am, oh dear, here we go, a jam crumpet and coffee, get dressed, be at there for a 5:00 am start.
The cut off time to get from the start line to the first aid station was tight and had been changed, being 4hrs I was getting a move on as best I could.
The racecourse started off nice, along a trail that followed the river, up a little down a little basically contouring the waterway. And then UP! up and up and up. Yeah right, I knew this had some epic gradient percentages, and it delivered. a bit of relief part way up and then boom again. Yay, and then there was the visual of Diamantina Hut and the Hotham road in the distance. Once we got to the road, it was another 6kms until the Mt Saint Bernard aid station and it was all runnable, downhill too, so I just paced it nicely to save my legs and tried to remember how many corners ups and downs I had to go.
22.4km in, I made it to the first aid station with 30 mins to go before cut off. Many many people were tighter than me. Off I went, without much time wasted trying to get ahead of the clock.
I was in, doing this and whilst my guts felt queasy I was able to run and move ok, as well as climb ups better than my downs. I got better as the race went on, but downs are not my forte.
This next section to Selwyn was 7.5hrs total time and 40km in. To get to this checkpoint we negotiated 'the Twins' a straight up and over two biggish peaks that gave the best view over the northeast south and west. It was here, on the 'no trail' experience that I began to realise that my cushy little trail running feet were not GSER mountain running feet. Off camber and so many variations on angles of the ground, my proprioceptors were in overdrive. All good, but it was just an "oh F*&K" moment or two.
I must say, it was damn fun, the ups and downs were steep, unmade trail and some rocky steep 4wd tracks that were loose and unforgiving. Norm was waiting for me here, but only just, it took a long time to drive off the mountain and then head down Buckland Valley up the dirt road to where the aid station was.
Still queasy, I was managing to put down an almond chocolate milk and a ginger beer. Hydration was going off. I was definitely thirsty.
This next section was probably the easiest.
Mostly 4wd steep up and down tracks, with a big section of 2wd dirt road that took us down to the Riley hut for the 3rd aid station.
I don't have much to report here except I was able to manage sub 6 min pace without much hassle on the slight downward gradient.
23km took around 3hrs 45 mins and we went down to 700mt asl.
What goes down must go up!
Riley aid station was full of cups of tea, coke, hash browns and ginger beer. I stopped for around 25 mins and forced food in.
Total distance is now 63km, about 23km until the turn around point.
The trek out of Riley was about a 5km 4% dirt road fast hike up to a series of ridgelines that were disused or overgrown management trails, loads of sticks, debris and bark covering the double track. I finally caught up to a group and hung out with them until well into the night.
I guess by now it was around 5 pm and the sun was glorious. Sneak peeks of views, I did want to stop when we got to those lush green saddles that you can imagine a bunch of bushwalkers or 4wd'ers stopping the night with a fire and watching the stars. Oh, the dreams you can dream, but we moved forward with intent. I was so glad to be with this crew on the approach to the Viking.
We got this time estimator sheet to plan your race, where if you were slow, fast or medium you could see how long it would take from Riley Hut to Mt Speculation. I think it was like 8hrs to do this next 20+km, double the amount of time from the other estimations.
You cannot believe it until you do it. Section of hiking at 1km per hour. Putting our outer tops on, and off, rain jackets, walking poles, headlights, lots of stop starting and regrouping. And then we were on the Viking with views and it was magic. Now that was why I signed up. It got dark pretty quick and then we were at the famous chimney, a rocky chute with a teeny tiny survival style ladder. It swung around madly with any slight movement but we all got down safely. And then it was down down down the very steep face of the Viking. The surface was slippery and many many steep step-downs.
It took 35 minutes to travel 1km, we lost 289mt of elevation in this time with a gradient of -34%.
We were seeing the front runners now on their way back. Lucky buggers.
Unbelievably we had only 10km to go until this point of turn around ourselves, but it would be ages yet, like 3hrs before we hit the jackpot.
Upon reflection, it was a mix of On and Off for me over these next 3hrs. Like, feeling good, feeling on, feeling engaged, to feeling zoned out and tired, but still happy to be there. I guess we were approaching midnight and it was dark overgrown scrub and then as we started to negotiate The Razor, I really felt my legs starting to let me down.
The rocky surface was 'razor-like' and totally off-camber, grippy but you needed commitment on your feet and my calves and quads were stiffening up. Probably a mix of tough terrain, night time, and cooling down due to the slower rate of moving.
I started to make errors and got left behind by my new crew. I cut my hands up on a fall, bruised and battered, I pushed on slowly.
It was here I started to make a judgement call on my return trip.
Could I make this safely? Not just from a fall point of view, but if 80km in my legs were seizing up and now moving well, then what would this mean by the time I was descending the Bon Accord Spur? Could I permanently damage myself? What about injury to muscle or ligaments? broken bone from a fall? Rhabdomyolysis even entered my mind, and this was a serious concern. Muscle breakdown and kidney damage.
I made a decision to SMS Norm. Could he come to get me somewhere near mt Spec? Was it even possible? what were my options? He asked me all the right questions and making sure it was not just a moment of cloudy thoughts, but real action that was needing to take place.
I basically said, I can't and won't do the full distance. I am actually concerned for my health and recovery post GSER. So he found out, he could come to get me at Lake Cobbler and that would require a 10km hike out - ok, I was in.
And now I needed to get to the aid station to let them know, get tidied up, get warm, eat, refill water, and get on my way for Norm to pick me up. Seems I wasn't the only one there not keen to continue. So I gave a lift to 3 more people.
We hiked on a 4wd track for 12.5km, taking 3hrs to get out. I was constantly measuring my problems.
Ok, yes, calves were like lumps of wood, the left knee was sore, but more ligament or muscular. Feet were sore but ok. I felt it was my glutes and calves that let me down, not agile and strong enough to absorb the terrain - like plyometrics, and therefore my poor quaddies died in the arse. With 3 hours of thinking time, I had much to assess and plan for when I would be back home and recovered.
I was not one iota disappointed, but rather reflective of what I had done, what I had learnt and what was left to do if I want to do something this big again.
Finally, we got to our agreed meeting point and only 1 minute earlier Norm arrived, and there we were.
Ready for the pick-up.
2hrs later we were back at Harrietville, I was in the shower, and then sleeping.
A quick bite to eat 5hrs later, then sleep again until 6 am the next morning.
Gee my legs were sore, but nowhere near as bad as they would have been had I tried to continue.
Yes, I had a bit of FOMO watching a few runners finish, and reading stories of success, but I realised that this was something big, that needed more time invested, more of this hardcore terrain and more work on my weaknesses, including mountain running.
Will I be back? I honestly don't know yet, It's a big commitment. I had a ball, I really did.
I want to do more hiking in the alps, and more of this epic stuff as bushwalking overnight hikes, more fastpacking, not the heavy stuff!
Great Southern Endurance Run tested me, and I am glad I showed up to see what I could achieve with my year of trail running. I
t's been awesome and I love trail running.
As a conclusion, as a trail runner, I make a really good cyclist.
Norm reckons I should do a road marathon, I say no way. Ewwww bitumen!